What you need to know about features, pricing, and joining the public beta.
Plus: pre-launch sale!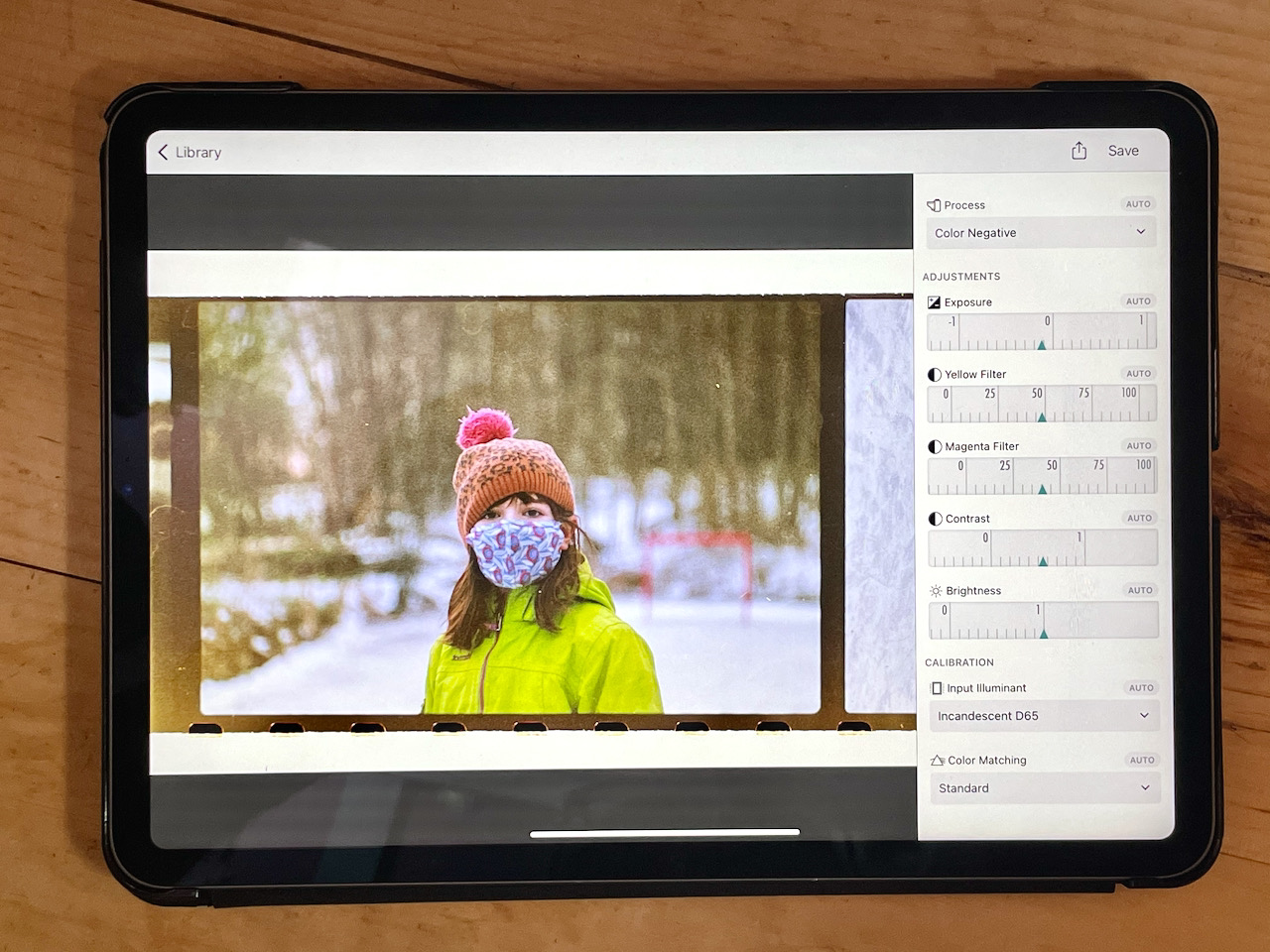 FilmLab 2 (beta) editing a high-res raw camera scan of a 35mm negative on an iPad.
It's almost here! FilmLab 2 is coming to iPad, iPhone, and Android, and bringing with it the full power of FilmLab on the desktop, plus some brand new features. Let's talk about some details!
FilmLab 2.0 has lots of small improvements, but for today we'll just cover the two major new features: A photo library with non-destructive editing, and image import. Let's talk about the photo library first. FilmLab 2 keeps a library of all the photos you've captured until you delete them. And these are stored as original raw files with edit data on the side. This lets you capture a bunch of images quickly, without having to make any edits as you go, and then go through and process them later. Or you if you decide you want to tweak the look of a photo you previously scanned, you can open it up again and pick up where you left off.
The image import feature in FilmLab 2 lets you open files from other cameras instead of being limited to the built-in camera on your phone or tablet. FilmLab 2 will let you import from your device filesystem, external storage like SD cards, cloud storage providers like iCloud and Dropbox, or your iOS Photos Library. And FilmLab 2 supports the same comprehensive set of raw image formats as the desktop version. So if you're camera scanning with a high-resolution digital camera, you can import raw files right into FilmLab on your mobile device, and process them with no computer necessary.
FilmLab 2 on mobile will be free to install, just like it is today. And we're increasing the capabilities of the free version by making the new library feature available to everyone at no charge. Pro features, including the ability to import files from other cameras, will require a FilmLab subscription or lifetime license. If you're already paid for FilmLab for Mac or Windows you won't have to buy it again - your existing license also covers the mobile version. If you don't currently have a license or subscription, and would like to buy one, see our
pricing page
for monthly, annual, and lifetime options — and take advantage of our special prelaunch pricing while FilmLab 2 for mobile is in beta.
We want FilmLab 2 for mobile to be rock solid and thoroughly tested before we release it. So starting this week, we'll be releasing public betas of FilmLab 2 for iPad and iPhone, with Android betas to follow. If you have an iPad or iPhone, we'd love to have your help in this first round of beta testing. We'll be sending out the signup link to our
mailing list
in a few days, so keep your eye out for it!
The beta app will have all Pro features enabled for free, so you don't have to buy a subscription to help test the full feature set. But as a way of saying thank you to all our wonderful users and beta testers, we're running a special sale:
20% off annual subscriptions and lifetime licenses
. If you want to support what we're doing, or just want to get a great deal, you can purchase a discounted license now, use FilmLab on your Mac or Windows computers today, and get full access to Pro features on mobile when FilmLab 2 ships.
Thanks for reading this! We'd love to know what you think. Send your questions, comments, and friendly greetings to
hello@developandfix.com
, or use our
contact page
.